Digital Products
by Anna Aspnes
Contemporary Digital Designs for Photgraphers, Artists and Memory Keepers.
Your photos + My DigitalART = Artful Stories
GET MY PRODUCTS
Visit my shop at Oscraps.com or Design Cuts to view all the products I have to offer. In this store you will find a variety of digital products which will enable you to quickly and easily create complex-looking blended layouts in photo-editing software programs, such as Adobe Photoshop and Elements.
MID-WEEK RELEASE
Wednesdays at 9 am (EST) I release ArstyTransfers™ that coordinate with previous ArtPLAY™ Palettes as well as new Templates and miscellaneous DigitalART products. This is also the day to save on ValuePacks and ArtSale items that can be found in the Oscraps.com On Sale category of the aA Designs Store.
ANNARELEASE™
Fridays at 9 am (EST) I release new aA Designs DigitalART featuring a new ArtPLAY™ Palette, pre-designed Templates and collections of supporting products to help you create artsy and sophisticated projects with ease. These items are discounted for one-week and are available to be purchased individually or as a collection.
DigitalART Products Created
Anna Aspnes was the first content designer that stopped me in my tracks and made me catch my breath. Her content is so artfully done, so masterfully executed, so tastefully arranged — get your hands on it and you can't help but be inspired to great feats of creativity. In truth, it makes you wish you had a room full of art supplies yourself, and even half her talent. That her kits are available at all — that she doesn't keep them to herself, or charge 10X what she does and limit their licensing to a choice, happy few — seems a minor miracle, to be honest. Any artist opening these files in Photoshop or Adobe Elements is at a distinct advantage. Anna is an artist's artist. She is a wonder. And those of us in the digital art world are incredibly fortunate that she turned up, and that she is willing to share the bounty of her immense talents.

Sebastian Michaels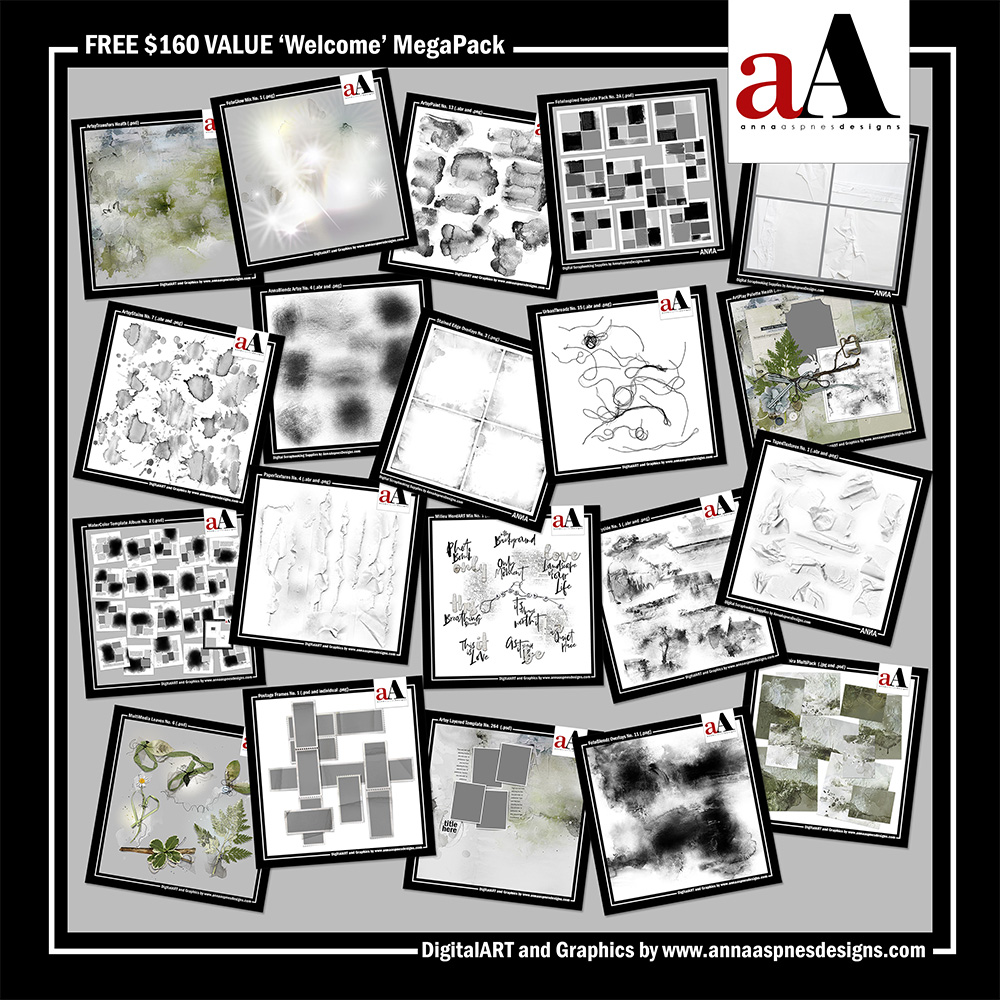 Get Your FREE
MegaPack + Class
20 DigitalArt collections (valued at $160), PLUS 1 1/2 hour video class and written instructional guide on how to get started, with my BEST weekly inspiration and news.