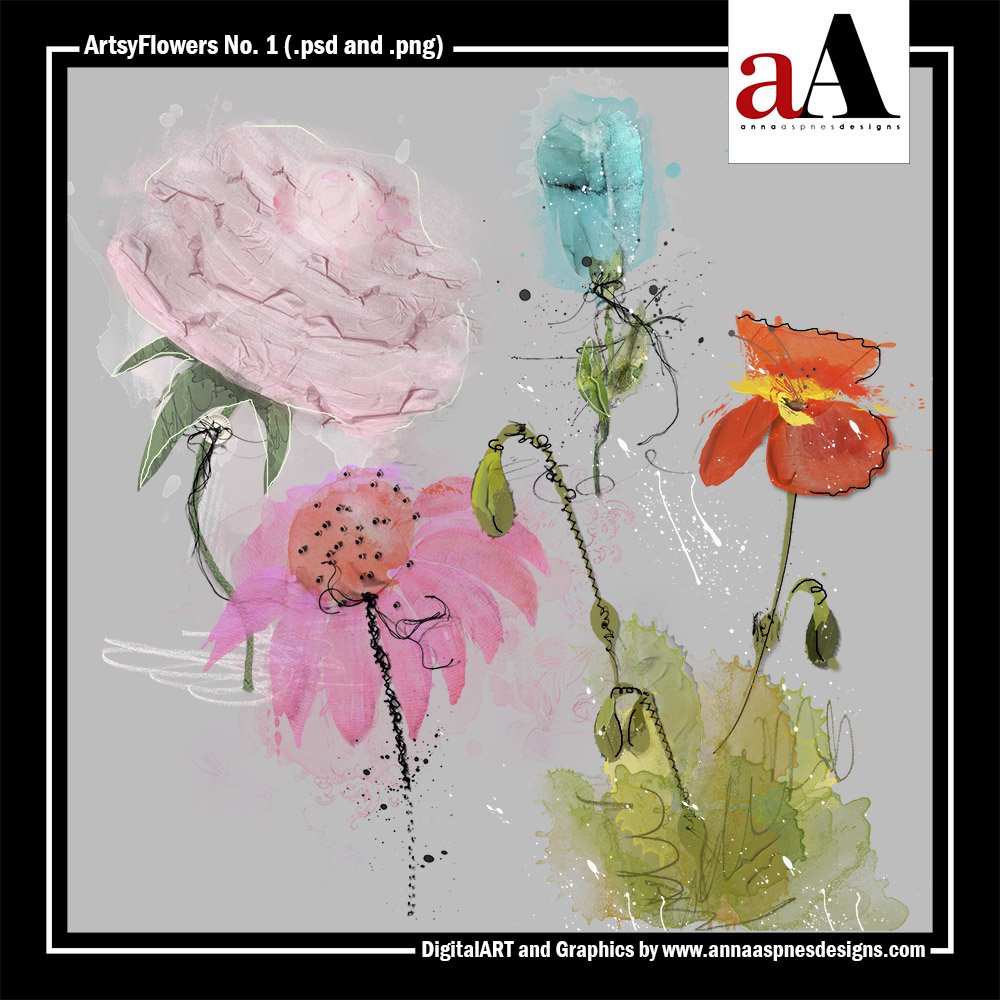 The latest aA DigitalART Store Updates 10-13 are outlined below.
a

A DigitalART Store Updates 10-13
1. New Charity ArtsyFlower Packs
A collection of 4 X ArtsyFlower designs by students of the ArtsyFlowers workshop by Anna Aspnes Designs.
Contributors to the first collection in the series:
Jeanne Draachreider
Linda Davis
Sonya Fuller
Maggie Tyler
Each ArtsyFlower design is delivered in large, high resolution .png and layered .psd format and designed for PERSONAL USE ONLY.
100% proceeds will be donated to the Let's Talk Non-Profit Charity Group.
Please note that this product is not eligible for any discount or sale.
This is the story…
A few weeks ago I received an intriguing request from an ArtsyFlowers admirer who requested the opportunity to purchase some of the flowers created by students in the course.
I have a few interested in this proposition and we decided it would be a wonderful opportunity to donate 100% of the proceeds to charity.
I will continue to add new collections as and when they become available.
Last Friday, Ella and I attended a meeting this Let's Talk Non-Profit Charity Group, with the intention of volunteering in an upcoming theater production 'The Snow Queen': I will be donating my skills in the art department, and Ella hopes to assist and act alongside these severely challenged kids who are only able to communicate through special devices.
The Let's Talk group promotes 'Communication for All' and are passionate about helping other non-verbal people communicate with the world. Their first project is to help those caught in 'State of Emergency' situations.
Elizabeth is a year younger than Ella and has Mitochondrial Disease. Her cells cannot convert food into energy in order to fuel her body. You can see her cooking show with friend and speech pathologist, Lori.
I also met Lauren on Friday and she was only able to tell me her name through her device. I cannot tell you how powerful this was.
We take for granted the simple act of being able to communicate and tell our stories.
Imagine what it would be like if you or I couldn't?
We have the profound ability to tell our stories through art, photos and words. The non-verbal community tell theirs through these amazing devices.
It's perfect and timely.
Learn more about this amazing group and I thank you in advance for supporting this worthy cause.
2. 40,000 AnnaGallery Layout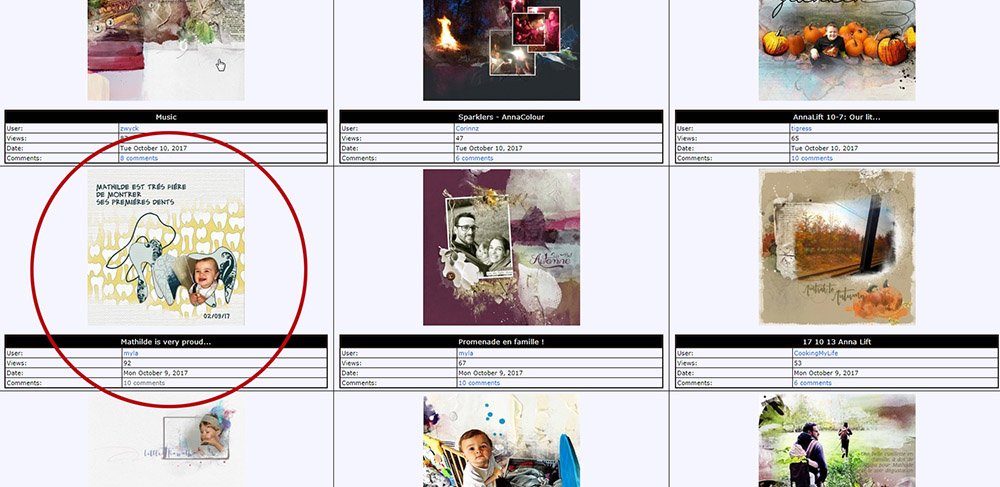 This week we reached a major milestone at Anna Aspnes Designs.
The 40,000 layout was posted in the AnnaGallery at Oscraps.
I can honestly say that there really are no words for describing how I feel – This 'sport' we call art is just so much bigger that I could ever have imagined.
This week I received a small note from a friendly artist:
"Many thanks also, for the many hours I watch your videos, with pleasure and admiration. You have such a wonderful talent and I am so grateful that you share your superb gift with people like myself, all over the world. What a brilliant gift has been bestowed on you."
Myla, who posts regularly in the community, took the 40,000th layout spot.
But I want to extend a GIGANTIC thank you to all of you that contribute to the Gallery at Oscraps and support my art.
I would not be here without YOU.
YOUR inspiration is VAST.
YOUR willingness to contributeto the community is IMMENSE.
And YOUR bravity in sharing your creativity is truly OUT OF THIS WORLD.
So again, Thank you – I really appreciate YOU being the HEART and SOUL of my art.
3. 52 Inspirations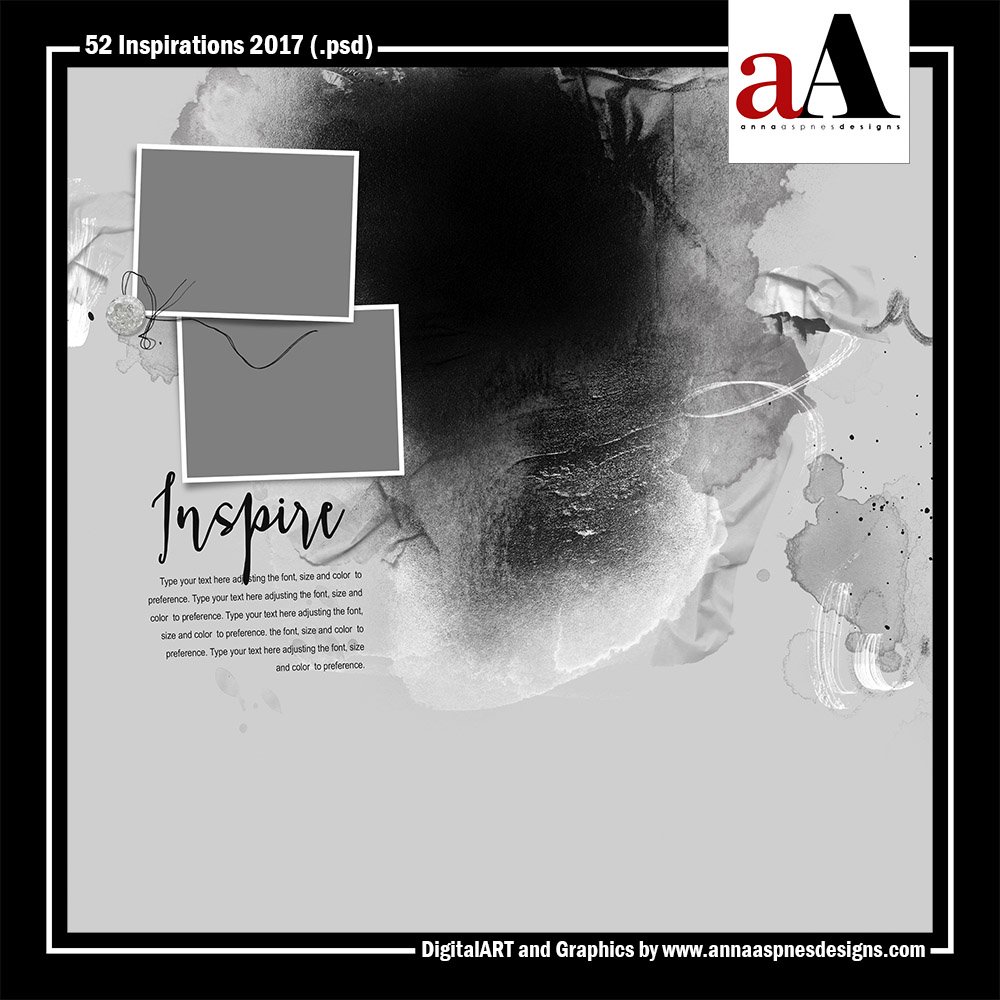 Anna Aspnes Designs is featured week in 52 Inspirations.
Vicki Stegll, owner of Oscraps, has been running 52 Inspirations for several years now.
The featured products are available individually or part of a LOW COST  subscription.
Check out the feature and learn more about 52 Inspirations HERE.
4. The Beauty of Being Different
Listen to my conversation last month with Karen Poirier-Brode on the Creative Approach Podcast.
Show Highlights:
My design process .
How my Digital Artistry has transformed over time.
Teaching others how to master the concepts of Digital Artistry, including Photoshop.
Being an advocate for ArtPLAY; no perfectionism here.
A bit of photography advice.
The unsung power of capturing memories in a scrapbook.
Fighting the sense of obligation by choosing projects that bring you joy.
How my Military upbringing and marriage shaped her career in artistry.
5.
a

A Classic ArtSale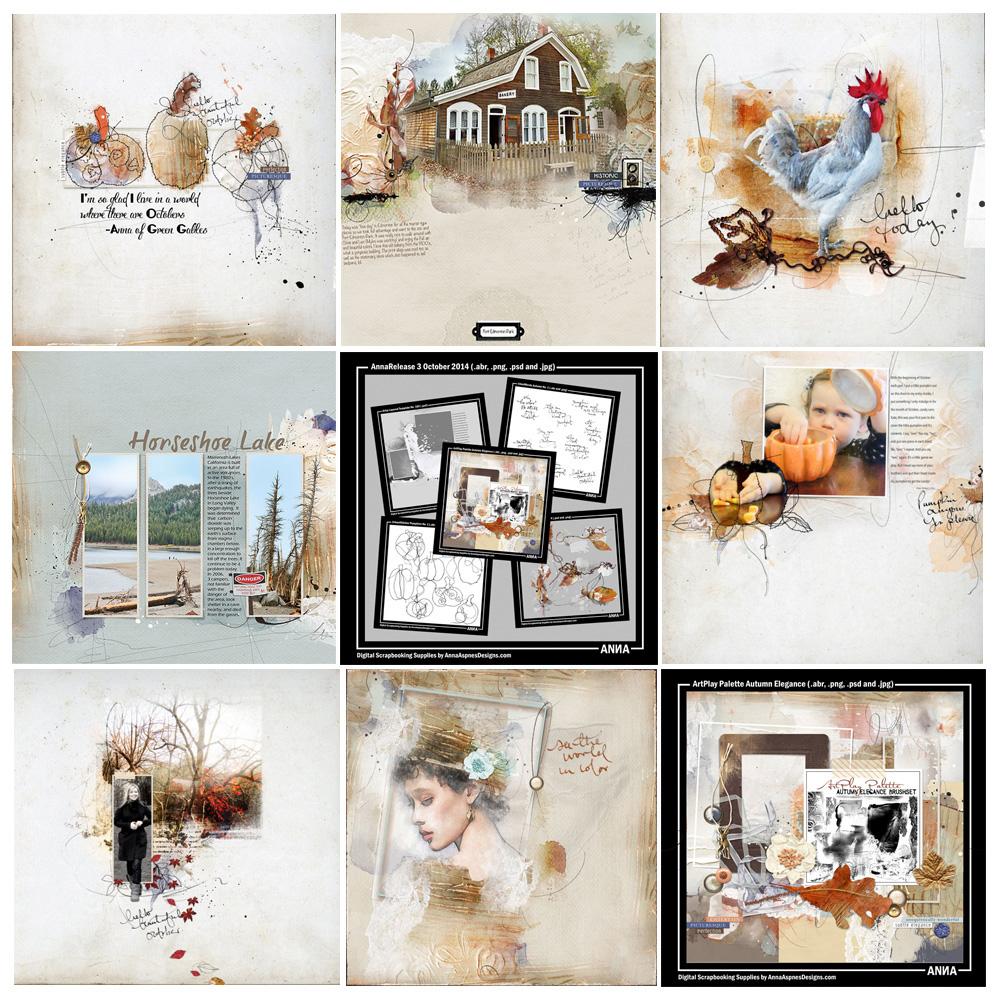 The Autumn Elegance Collection has returned to the
a

A store for a Limited Time

Every Wednesday we bring back a  aA Classic AnnaRelease collection from the Anna Aspnes Designs archives.

This limited option is back at a 50% discount and is available for ONE WEEK ONLY.

This collection will no longer be available after October 18, 2017 at 9 am EDT.

This collection includes the following aA artsy digital scrapbooking designs by Anna Aspnes Designs:
6. New FREE video
Watch it here and subscribe to the aA YoutTube channel so you don't miss a beat.
I think that just about covers it for aA DigitalART Store Updates 10-13.
New AnnaRelease coming next week.
Happy Weekend.