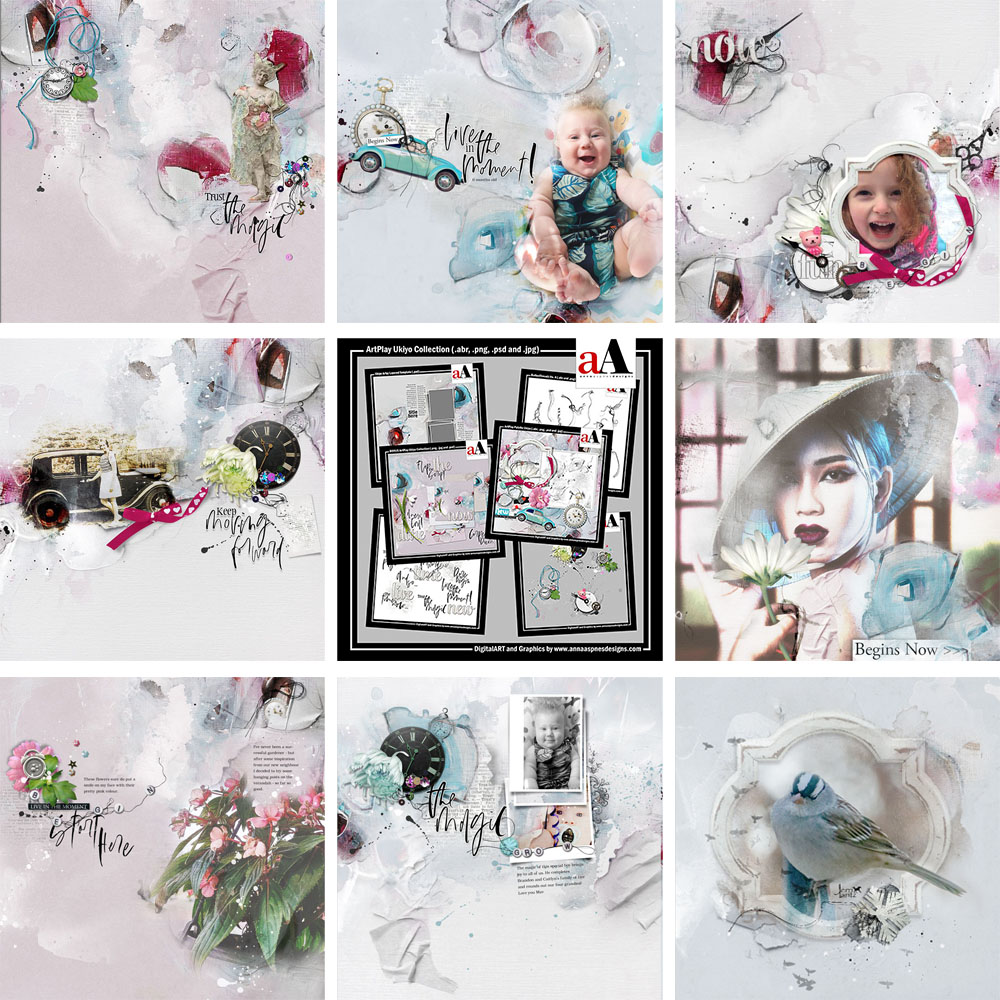 Happy Monday!  I'm delighted to be sharing a new ArtPlay Ukiyo Inspiration post today.
This post is intended to give you guidance on using the latest ArtPlay Ukiyo Collection to arrive in the Anna Aspnes Designs store at Oscraps.
ArtPlay Ukiyo Inspiration
Click on the images below to access complete digital design supply lists and process notes.
1. Support Your Theme
Create a custom cluster to enhance the theme and design of your photo artistry layout design.
See also:
2. Lead The Eye
Use elements and stitching to connect focal points.
See also:
3. Upgrade Your WordART
Add Layer Styles to your titles to make them more legible.
See also:
4. Rotate Artsy Papers
Turn your digital papers up-side-down to extend the foundational options for your artsy digital scrapbooking.
See also:
5. Anchor The Eye
Lead the eye around all areas of your designs vis strategic placement of element.
See also:
6. Create Tension
Add linear elements to the organic curves and circles in the ArtPlay Ukiyo Collection to create excitement in your visual storytelling.
See also:
7. Trio of Focal Point
Create a Visual Triangle Design with 3 focal points.
See also:
8. Soften a Frame
Blend a photo over the top of a frame element to soften.
See also:
Want More Photo Artistry and Digital Scrapbooking Inspiration?
Find more ArtPlay Ukiyo Inspiration in the AnnaGallery, the AnnaTeam Layouts board on Pinterest.
We invite you to post your pages and share your digital scrapbooking and artistry to uplift and inspire.