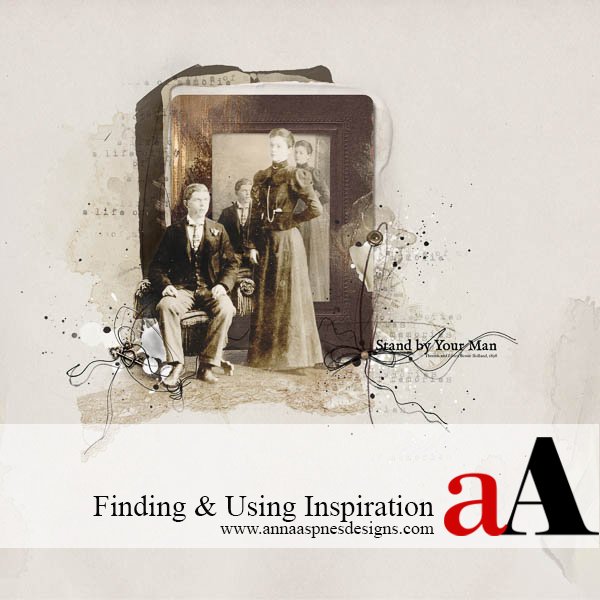 Today, Creative Team Member, Linda Davis shows us how she finds and uses Gallery Inspiration and then makes it her own.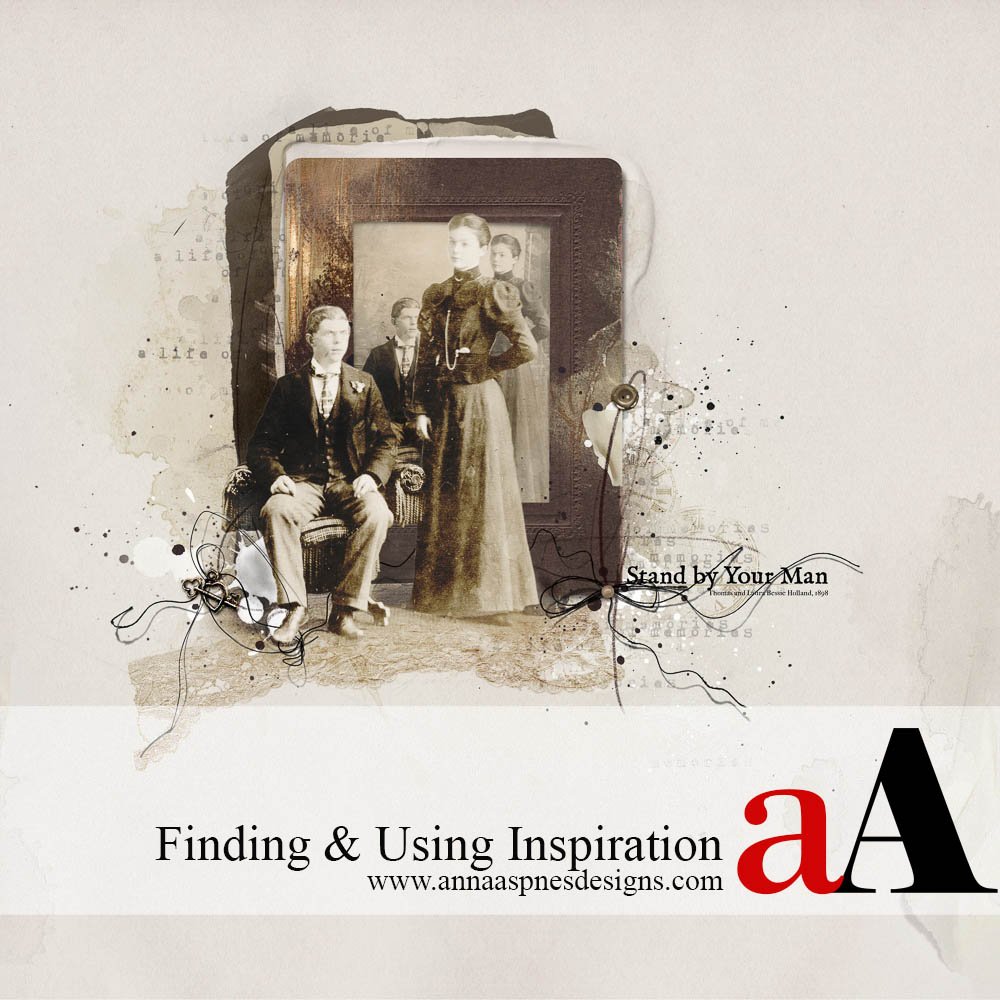 Making It My Own, a Process for Finding and Using Inspiration
Each week the Anna Team selects one creative page from the Anna gallery as the weekly AnnaLift Challenge. It's an honor for the person whose layout is chosen as it is always an outstanding page from the gallery. It's also a wonderful opportunity for those who play along to learn in the process of lifting the chosen page, whether it's the design, the color, the word art, the photo or just the topic.
Of course there are other opportunities in Anna's community to learn from one another, layouts that are deconstructed on Anna's Blog or her weekly newsletter to help digital scrapbookers understand how to use Anna designs on layouts. The Anna Gallery itself offers a plethora of ideas and inspiration.
Several years ago, I replicated a birthday page Adryane Driscoll did with an older ArtPlay Palette Birthday. She had shared the deconstruct in Anna's newsletter on March 3, 2012. It took me two days, but when I finished my layout looked exactly like Adryane's layout, except for the photos of course. It's here if you would like to see it.
I'm sure I learned something in the process of recreating her page, if nothing more than how to arrange those products in the same design. However, when I changed my thinking about how I approach lifting a page and began to move beyond duplicating the work of another the way I initially did with Adryane's page, then I began to learn far more about how to use both Photoshop and Anna's designs.
Three years later I still wonder how others create their beautiful pages, but I am also learning to look at layouts differently for inspiration. With experience using Anna's designs and Photoshop, I know more about the basic process steps used for creating a layout. I also know that my creative process, like everyone's, is rather circuitous as I experiment on my pages.
Now I analyze what works, what appeals to me, the products used to achieve the look on a page. I read the process notes provided by AnnaTeam members. Then I use those observations to create something new and different so that I can continue developing my own scrapbooking style. Are you wondering what my lifting process looks like in scrapbooking terms?
Since I began with an example from my own experience replicating one of Adryane's pages, I am going to share how I looked at another of her more recent pages, Word for Word, for inspiration and explain how it influenced my own layout, Stand By Your Man. I will share what inspired me on Adryane's layout as well as some basic process steps describing what I think she did to create her layout.
While I don't usually write an analysis of any layout, I thought you might like to know specifically what I noticed and what inspired me in Adryane's layout, Word for Word. But remember, I am not Adryane.I don't think the way Adryane does; my background learning Photoshop isn't the same;my scrapbook pages don't look like Adryane's pages, well except for that birthday page I did three years ago.
Analysis of Word for Word by Adryane Driscoll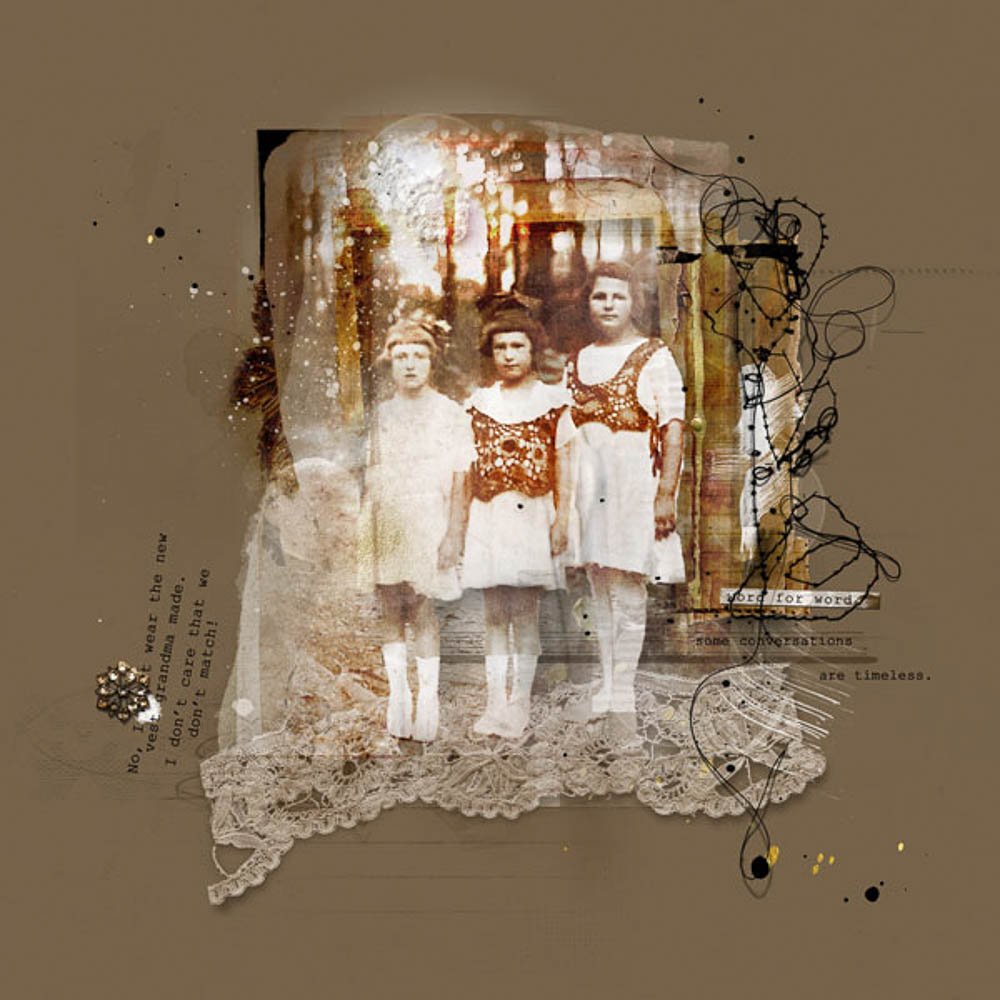 Old Photo
I am always inspired by what Adryane does with the wonderful collection of old heritage photos that she inherited from a grandmother.
Color
Old photos are generally sepia or black and white. Adryane's photo of the three girls might have had sepia tones based on what she did with the color in the photo. But more important to me as I analyze her layout, she chose warm neutrals and black for her color scheme for this page.
Products
From the list of the products Adryane used for this page, I focused on the ArtsyTransfers that are now available in .psd format, the UrbanStitchez, a frame from ArtPlay Wilderness and lace from ArtPlay Palette Tinge.
Design and Techniques
First I noticed the frame behind the girls. That design element really increases the depth on her page. I see that frame as a door opening to the scene behind the girls. I also noticed the black edge on the top left of the photo, just behind the girls' legs and above the stitching? Those lines extend the frame and define the scene's space.
Process for Frame and Brushwork
She opened her photo in Photoshop and dragged it onto the center of a new blank document using the Move tool from the Tools panel.
She moved the frame from ArtPlay Palette Wilderness onto her page, placed it behind the extraction of the girls and above copies of the photo. Below is the process for the additional photo copies and artsy transfers. Then she applied a drop shadow layer style to the frame.
She created a new layer and stamped brush_9 from ArtPlay Palette Love Story in black along the edges. She created at least two more layers and stamped a brush from Ruled Lines No. 1 and Scanty JournalLines No. 1.
Based on the process notes that Adryane included when she posted her layout, I know that Adryane placed all the layers of a .psd artsy transfer from ArtsyTransfers Love on  her page. In addition, Adryane also described how she used two layers of the lace.
Process for Artsy Transfers and Lace
Adryane moved all the layers of one transfer from ArtsyTransfers Love onto her page.
She duplicated her photo and clipped a copy of her photo to each of the transfer layers. She states in her process notes that the .psd layers were already set to a  variety of blending modes so there wasn't a lot of work for her to do. However, she may have adjusted the opacity of some layers.
She moved the lace onto her layout and placed it below the girls.
She duplicated the lace and changed the blend modes, one to Linear Burn and the other to Soft Light.
Next I noticed the placement of the Heart UrbanStitchez, the journaling, button and splatters. I love the way Adryane separated her journaling. I think the "word for word" label and the reference to timeless conversations on the right side of the page sum up not only the conversation placed on the left but the photograph as well and makes a great substitution for a title. In a way the girls appear ethereal, much like ghosts of the past, but the conversation, added in an old typewriter font, could have been said this
morning. I love the unexpected humor in her journaling for this photo. The journaling placement and elements add interest and balance to Adryane's page.
Process for Elements and Journaling
Adryane added a new layer for each of the splatters and stamped them in black, white and gold.
She created two separate text boxes for her journaling. She rotated the text box on the left. She place the other text box just above the ruled line she had stamped on a separate layer.
She dragged the heart stitching, UrbanStitchez, a LabeledWord and a button onto her page.
Stand By Your Man by Linda Davis
Rather than replicating Adryane's layout, I applied some ideas from her page in new ways on my own layout, ways that reflect who I am as a digital scrapbooker. There were five specific ideas from Adryane's layout that I incorporated into my own page: using a frame to create depth, adding layers of lace to extend the floor below the couple, using layers from a .psd artsy transfer, creating interest and balance with elements, adding unexpected words from a song for my title. I describe my process for working with Anna's designs.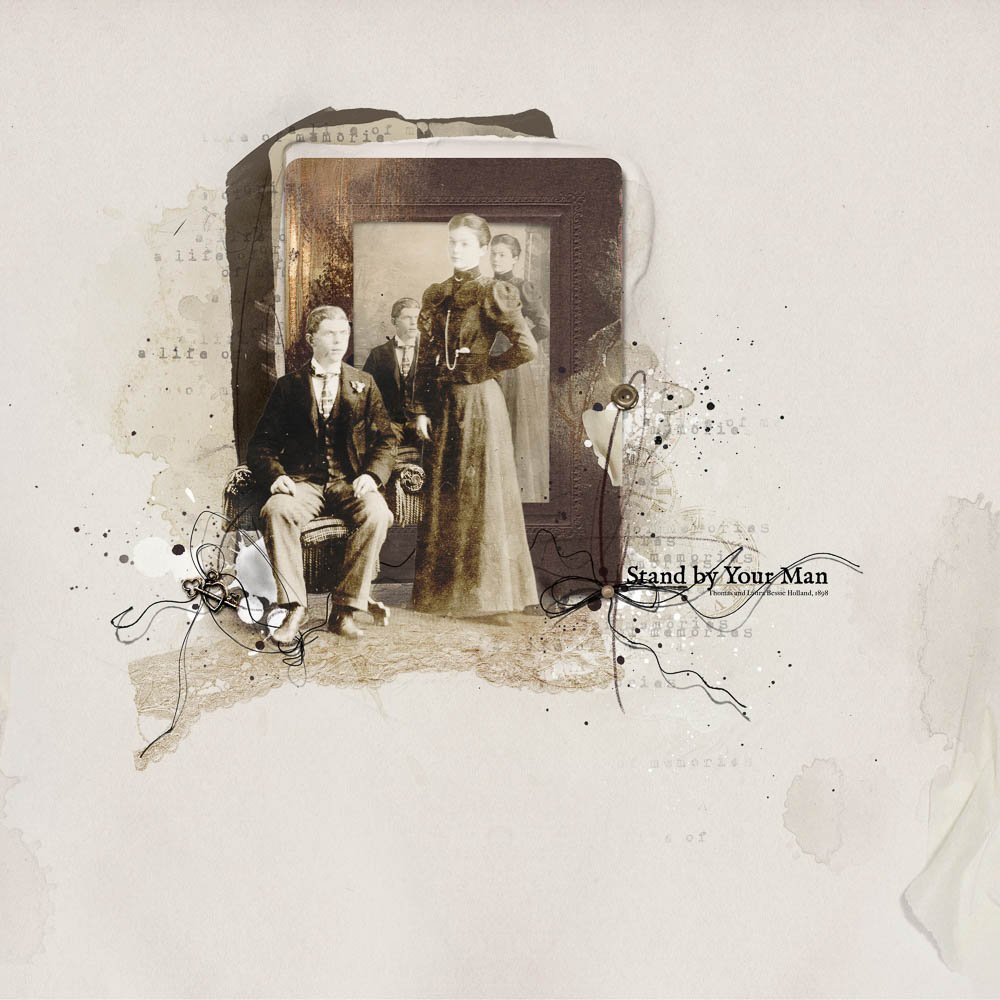 Using a Frame and Lace to Create Depth in a Layout
Like Adryane, I also used one old photo, but I placed it slightly off center, creating an asymmetrical page design. I extracted the couple from my photo. I then placed a frame behind my extraction. Inside the frame, I placed another copy of the photo to provide a context for my extraction. I used layer masks with copies of my photo to make it appear that my extraction was in the foreground. I followed Adryane's process notes for using the lace, but I warped the lace and placed it so that it appeared to be an extension of the floor below the couple. Adding the framed photo and lace created more depth in my
layout.
Process for Photo, Frame and Lace
Select and open a photo on a new blank document. Reduce the size of the photo. Duplicate the photo three times. Link all the layers. Turn off the visibility of the lowest layer to create a backup in case you make a mistake at some point or you need a clean copy.
Using the Pen tool, extract the couple. Rather than deleting the background when making your selection, click the add Layer Mask button. For some photos, it is easier to work off a mask rather than a typical extraction where everything in the background is deleted. Adjust the placement of the photo layers on the page.
Make another copy of the photo and place it below the extraction. Attach a layer mask to the extra copy of your photo to bring back in the shadows and a little of the floor and background.
Move the .psd layers of the ArtPlay Palette Autumn Elegance frame onto the layout and place it below both the extracted photo and masked photo that you used to bring back in the shadows. Make another copy of the photo, unlink it from the original and clip it to the mask. Adjust the position
Duplicate the extraction twice. Change the blend mode on one copy to Color Burn and the second copy to Hard Light. Reduce the opacity as needed.
Move a copy of the lace onto the page and place it below the lowest extracted photo layer. Using the Warp tool that is available in Photoshop, adjust the shape to make it appear it is coming out below their feet. Place it partially over the photo's floor. Change the blend mode to Linear Burn. Duplicate the lace and change that blend mode to Soft Light. Add a color adjustment layer to the lace to blend it with the photo.
Artsy Transfers
Rather than clipping my photo to the layers of an artsy transfer as Adryane did, I used the layers from ArtsyTransfers Memorable to create a background for my framed photo.
Process for ArtsyTransfers
Drag the layers for an ArtsyTransfer below the framed photo's shadow.
Delete and adjust the position of layers as needed. Recolor stains to fit your photo. Adjust the blend modes and opacity as needed
Creating Balance and Interest with Elements
On my layout I used brushes, UrbanThreadz, a button, splatters and an art stroke to create a visual triangle. My visual triangle helps to balance the position of my title and disguises the problems that I had with my extraction on the left. The paper texture on the right also adds balance to my asymmetrical design.
Process for Using Elements
Create new layers for splatters, stains and paint. Stamp each brush in a different color on a new layer. Then position the layers to create a foundation for the other elements.
Stamp UrbanThreadz using an .abr brush file on new layers or drag .png copies onto the page, adjusting the placement with the Move Tool.
Drag buttons, key and art stroke onto the page and position. Add drop shadows with AnnaStyle Shadows No. 1.
Unexpected Title
I have always wondered why a man sat while a woman stood in old wedding photos.The words, from an old song by Tammy Wynette, are unexpected for a formal wedding photo. I added them in an older font, Im Fell English, to fit my photo. Knowing my family, I think they will smile when they read the title.
Side by Side
Placed side by side, other than the subject, an old photo, one might initially wonder what inspired me from Adryane's layout. The layouts don't look anything alike. The styles are very different. But I hope it's evident now that I did indeed lift some ideas from Adryane's layout and applied them in different ways.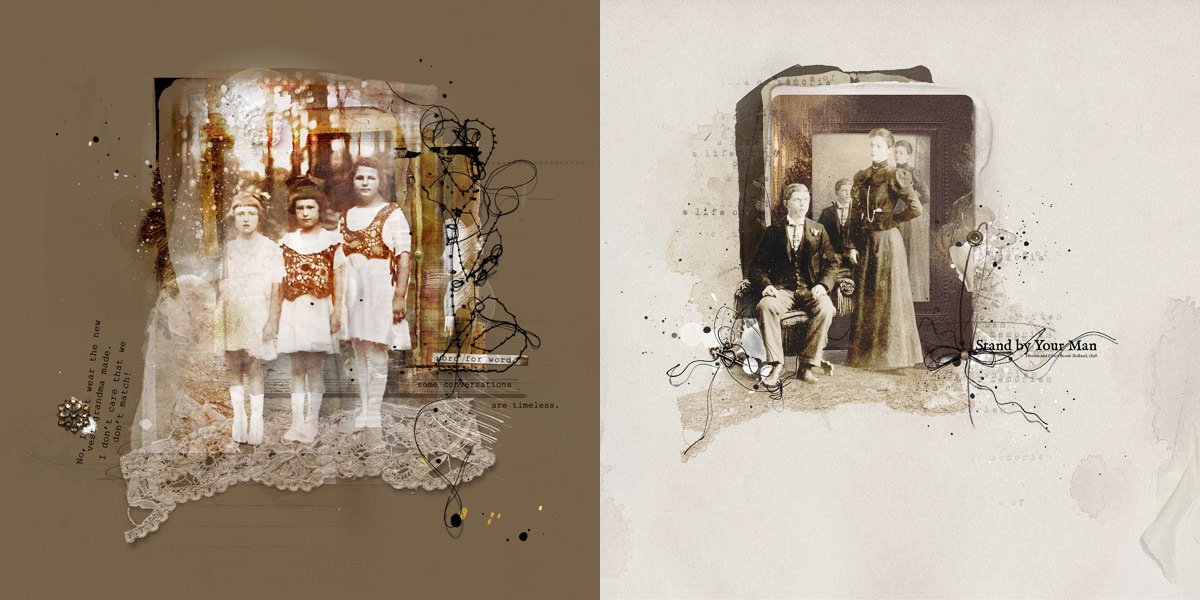 When I view one of Anna's instructional videos, available here, read a post on Anna's blog, see a layout in Anna's gallery or take a class from another source on some aspect of Photoshop, I deliberately look for ways to apply the information in a new way. For example, I won't make the page outlined in a lesson, but instead I will try to create something new with the ideas or techniques.
By doing this the techniques, concepts or processes become part of my skills set, something that I know well enough that I can apply the information in new or different ways on my layouts. I call my approach to learning whether lifting a page or taking a class, making it my own. I encourage you to try making your learning your own by applying the ideas that inspire you in the pages in Anna's gallery in new ways.
One more thought, I want to extend a special thank you to Adryane for allowing me to lift one more layout. I imagine she is pleased that I no longer try to duplicate her pages. Adryane's work is beautiful; her design skills are outstanding. I learn something from every page she creates. Thank you Adryane for sharing your art!! I love your work and the inspiration I find in your pages.