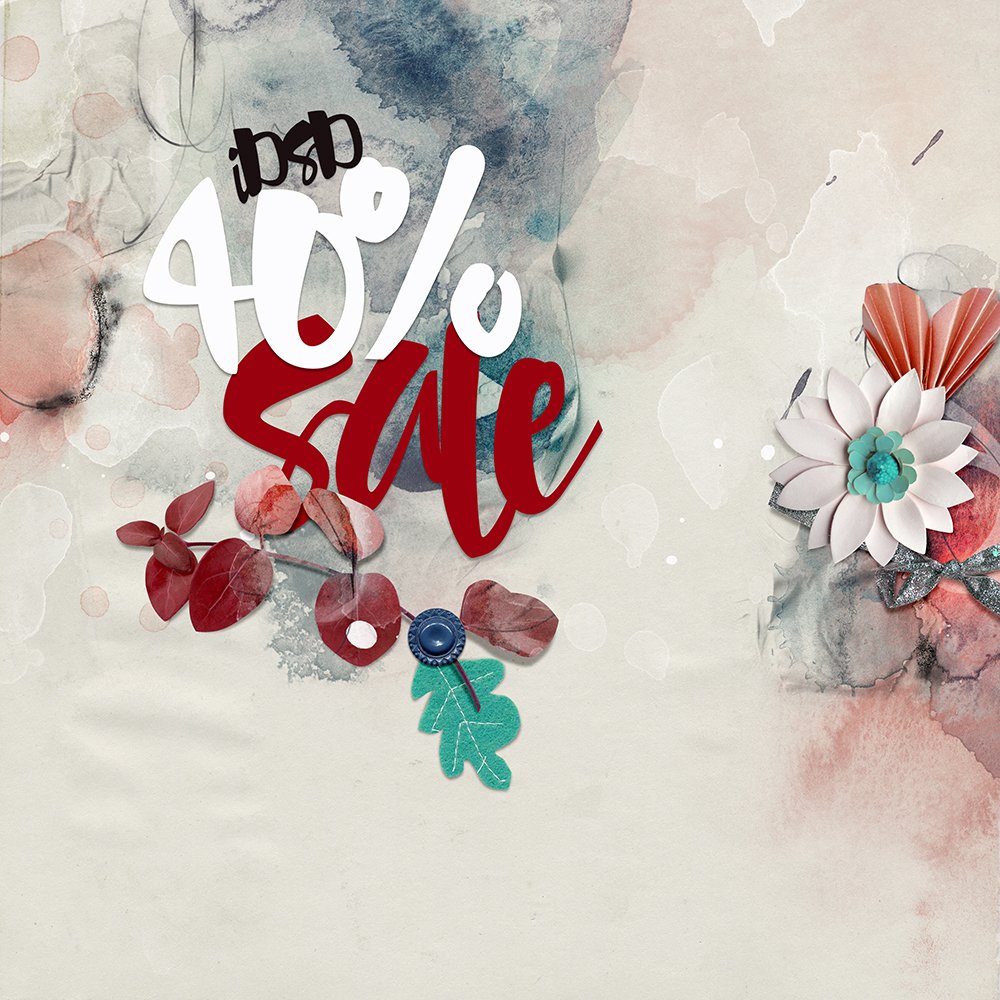 Today I'm sharing the [aalogo] INSD 2018 Digital Designs Sale Event Information.
The 

a

A

 (inter)National Scrapbooking Day is happening 

NOW.
See below for all the details.
NSD 2018 Digital Designs Sale Event Information
SAVE 40% 

on DigitalART (Some Exclusions)
Now THROUGH Monday October 08, 2018 at Midnight PDT.
EXCLUDES:
a

A

DigitalART products released in the last 12 weeks.
There is nothing more frustrating than purchasing aA DigitalART products and then have them immediately go on sale.
FREE with

$20

Purchase Offer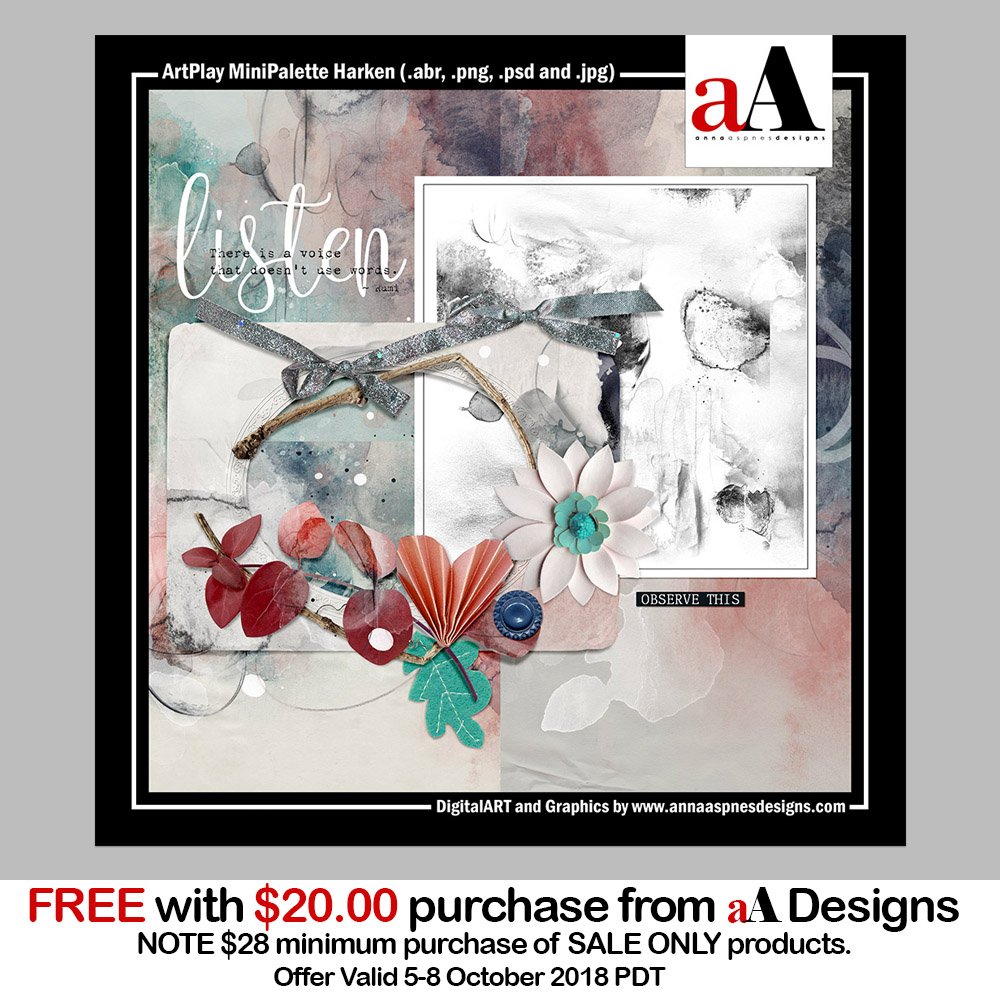 INCLUDES:
4 artsy and solid 12 X 12 background papers
12 – piece BrushSet
12 transfers/overlays
10 dimensional embellishments, delivered in .psd and .png format to allow for maximum customization.
PLEASE READ
Note that this is the amount after all discounts have been applied. The pre-discounted total in your cart must be $28 or more before the FREE With Purchase offer activates and changes the cost of the ArtPlay Palette to $0.
If you purchase items that are NOT on sale, then they can buy $20 without having to get to $28 subtotal, email support@oscraps.com and Vicki will send you a coupon for the item.
*MiniPalette will automatically be added to your cart at checkout during the NSD 2018 Digital Designs Sale, are you can purchase individually for $9.99.
SAVE 75%

on LIMITED EDITION ValuePacks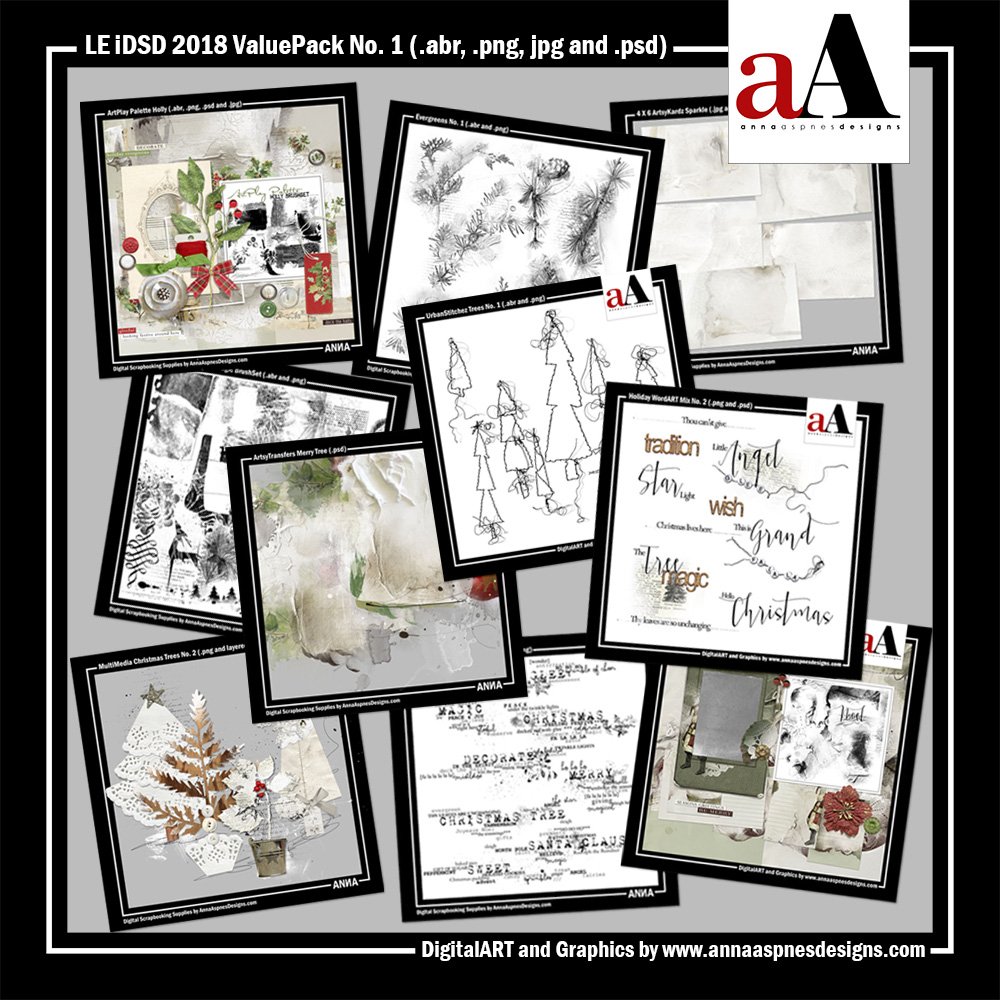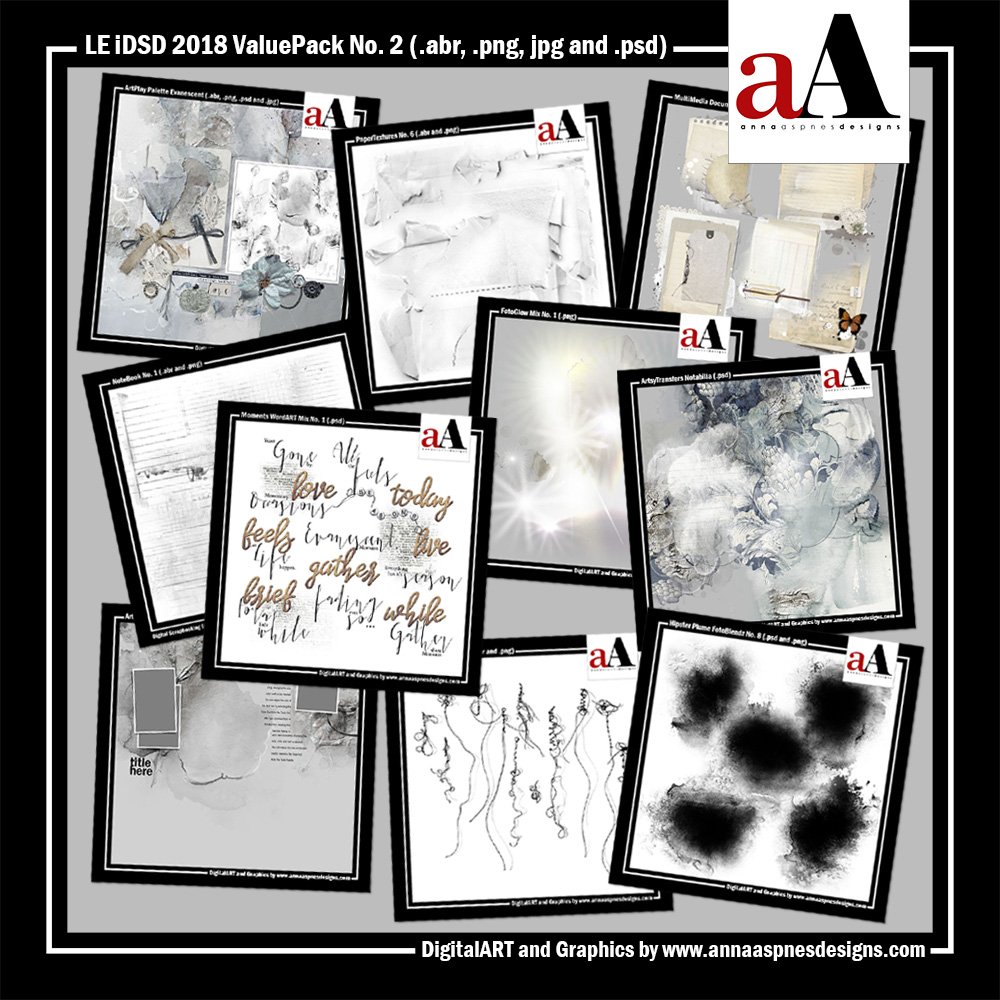 2 Limited Edition ValuePacks valued at $61.90 & $55.90 for ONLY $15.00.
Each ValuePack includes 10 of the aA Creative Team Favorite DigitalART supplies.
NOW AVAILABLE through Monday, October 08, 2018 at Midnight PDT.
a

A 

Education Specials
SAVE 75%

 on Classes and Education
NOW THROUGH Monday, October 08, 2018 at Midnight PDT.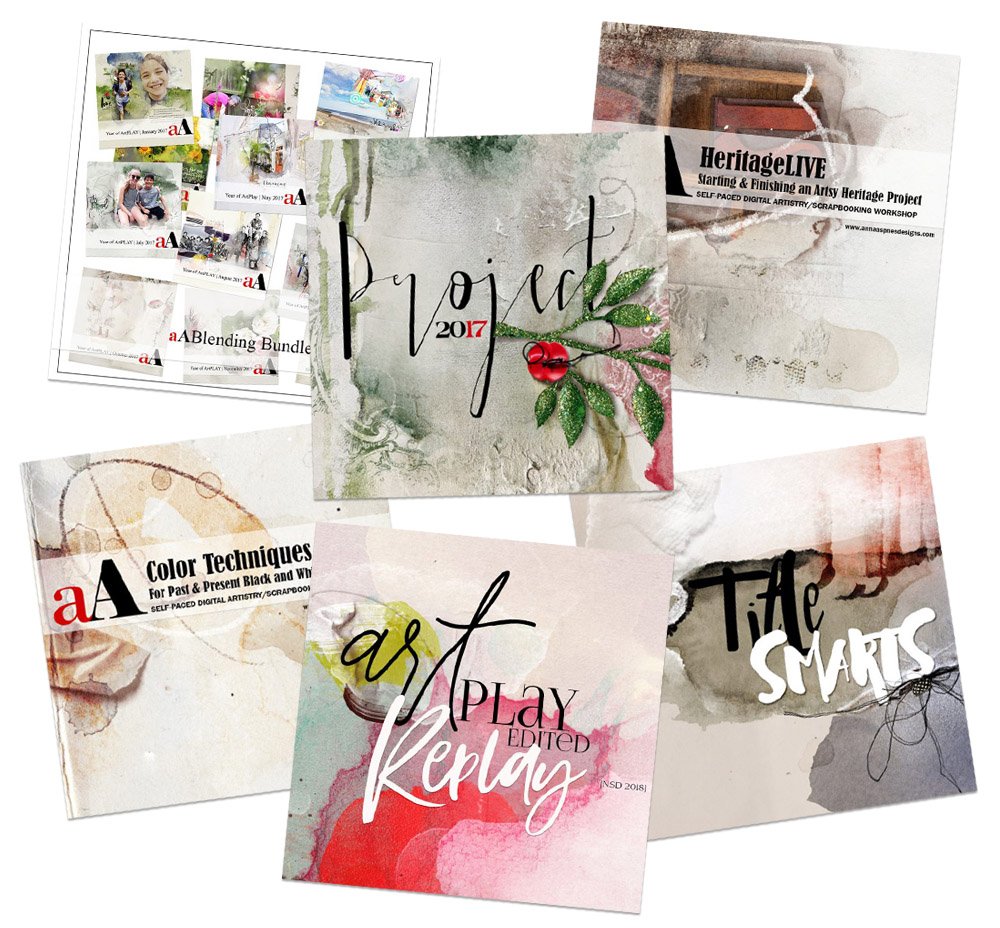 Use Coupon Code: 

aAClass40 
EXCLUDES THE FOLLOWING ALREADY DISCOUNTED PRODUCTS:
FREE WITH $20 MINIPALETTE PURCHASE ALSO APPLIES ON CLASS PURCHASES.
100th Color Challenge
Can you believe it?
HUGE THANKS TO ADRYANE WHO HAS BEEN PART OF THIS

a

A

JOURNEY FROM THE VERY BEGINNING.
See THE FORUM for details this weekend.
a

A
 

DigitalART Store Updates 10-05
1. New Travel Template Album No. 4
Save 50% on Travel Template Album No. 4 FOR A LIMITED TIME.
Offer valid through October 12, 2018 at 9 am EDT.

A collection of 20 – 12 X 12 artsy and blended layered templates designed to create a 20-page album, plus a BONUS cover set for photo book printing.
The templates are intended for use with the clipping mask function or for recoloring in Photoshop, Elements and Paint Shop Pro.
All layer styles, masks, frames, brushwork, stitching and text boxes shown are included.
Simply clip your images to the FotoBlendz masks and add your own personalization through DigitalART supplies and words.
Further information on using clipping masks in Photoshop and Elements can be found in the Instructions for Use which is available as a free download from the FreeART category of my store or check out the videos on the aA Youtube channel .
2. MidWeek Releases
NEW ArtsyTransfers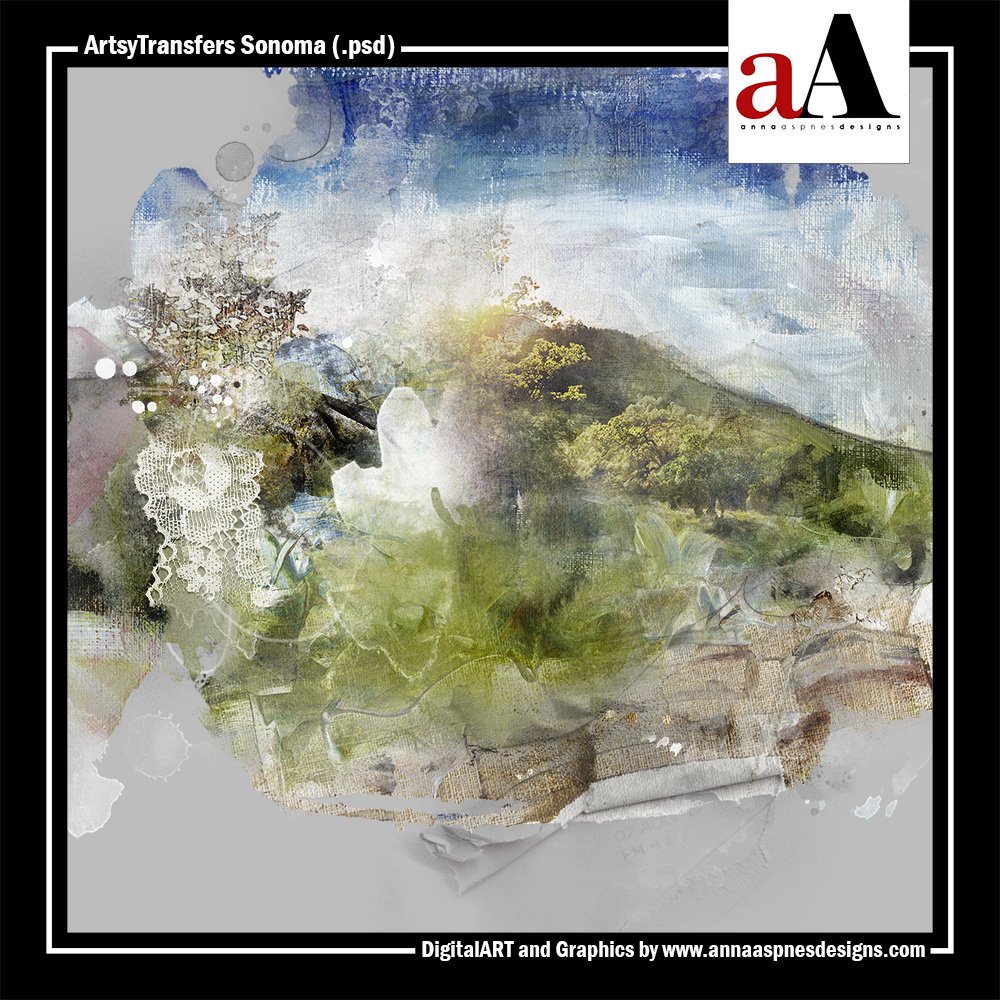 New ArtsyTransfers Sonoma arrived on Wednesday in the Anna Aspnes Designs store which coordinates with ArtPlay Palette Sonoma.
Watch this ArtsyTransfers 101 – The Easy Way to Blend Photos Video for guidance on using ArtsyTransfers in your digital artistry and digital scrapbooking layouts.
New ArtsyTransfers are discounted by 20% through October 10, 2018 at 9 am EST.
New BrushSets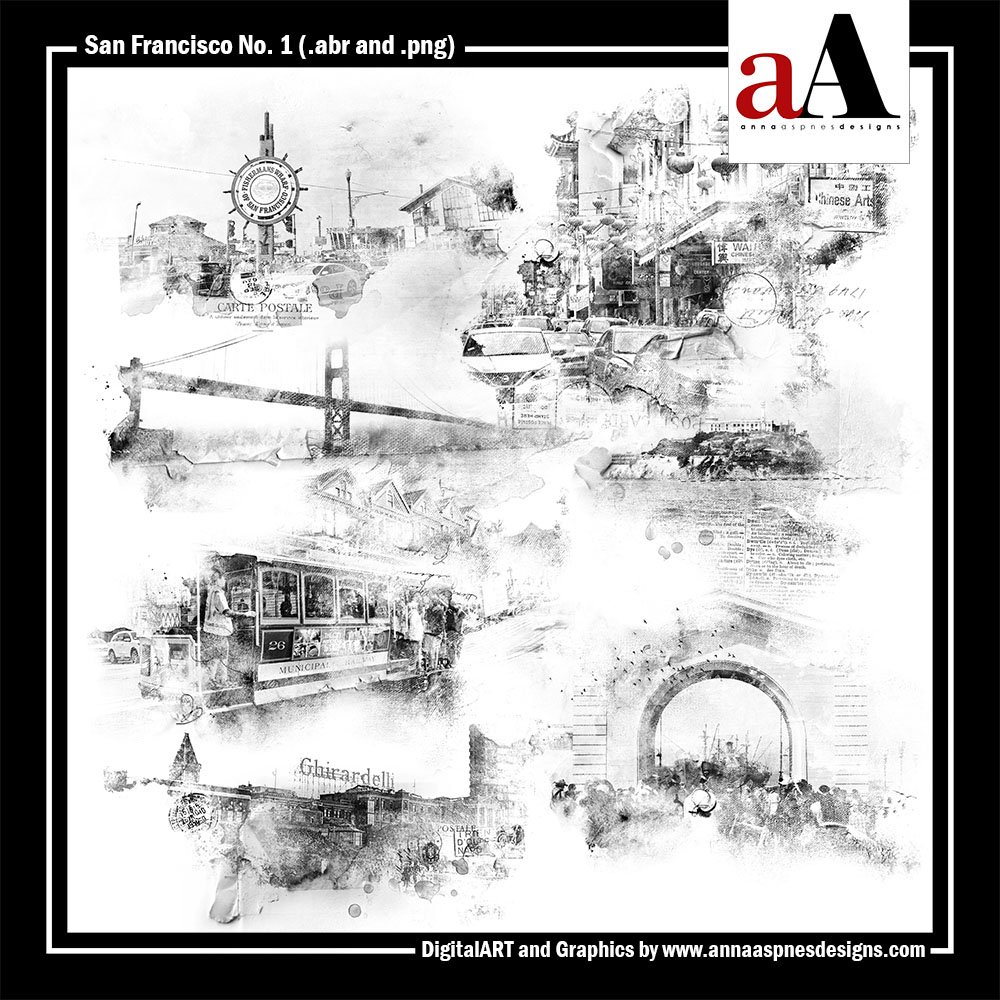 A collection of 7 San Francisco brushes delivered in .abr and .png format.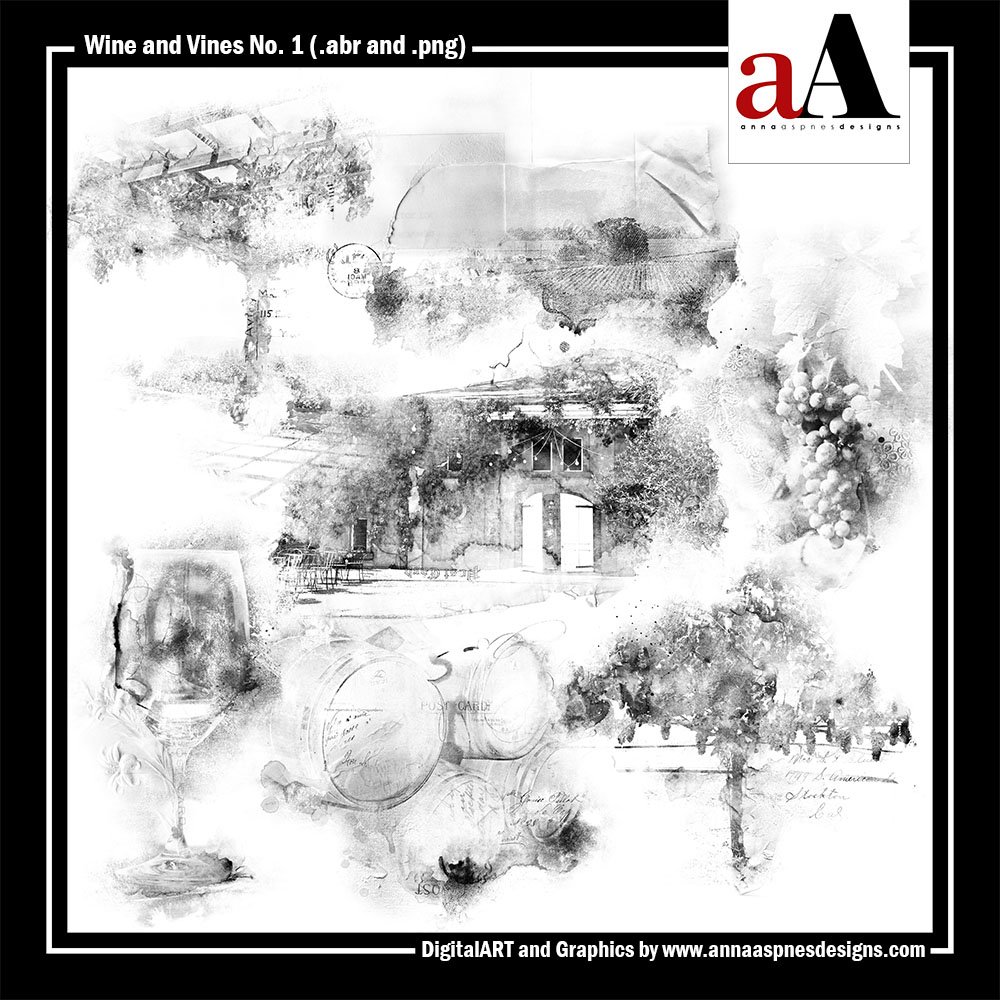 A collection of 7 wine and vine brushes delivered in .abr and .png format.
3.

a

A

 Classic ArtPlay 'Autumn Elegance'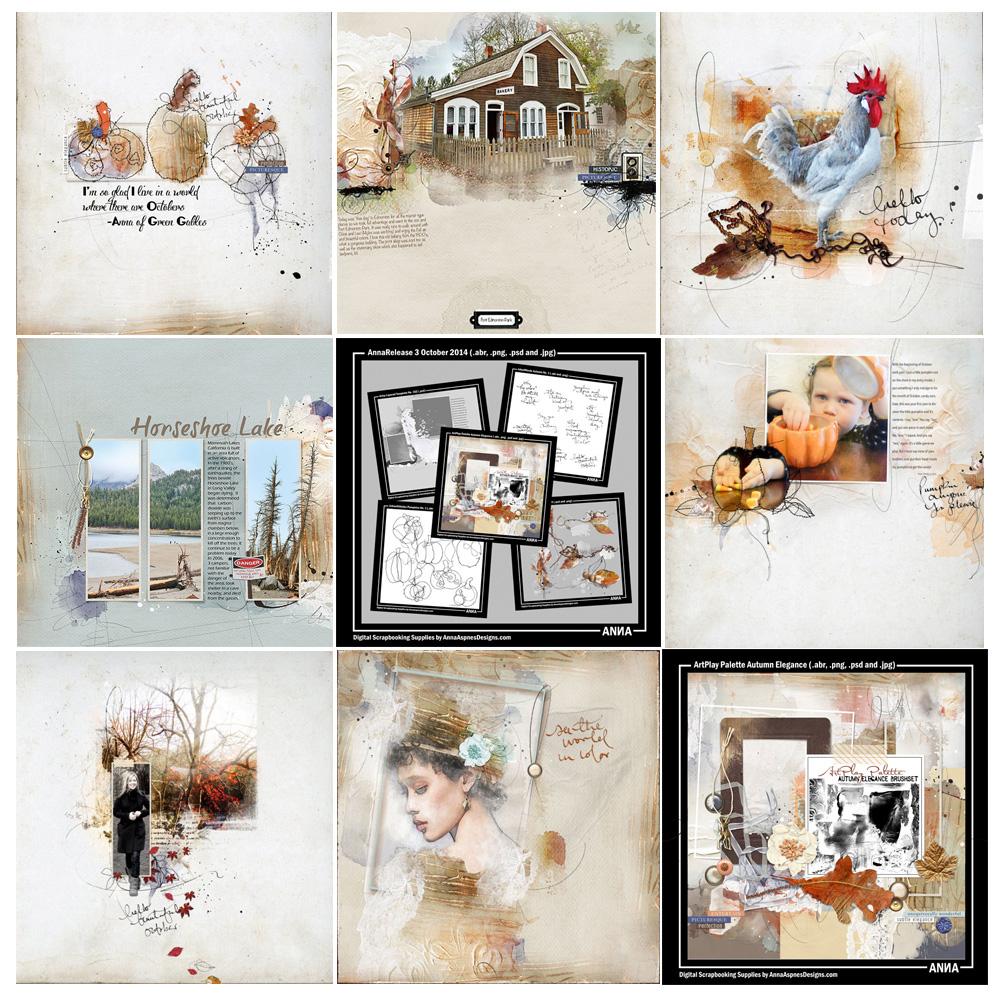 The 'Autumn Elegance' ArtPlay Collection has returned to the

a

A

store for a limited time.
Every Wednesday we bring back a aA Classic AnnaRelease collection from the Anna Aspnes Designs archives.
This limited option is back at a 50% discount and is available for ONE WEEK ONLY.
This collection will no longer be available after October 10, 2018 at 9am EST.
The ValuePack includes the following aA artsy digital scrapbooking designs by Anna Aspnes Designs:
aA DigitalART: PERSONAL USE ONLY – Photographers, artists and crafters, web designers and scrapbookers For Hire (S4H)/Scrapbookers For Others (S4O) may purchase a Commercial Use License for each of these products for a nominal fee here.