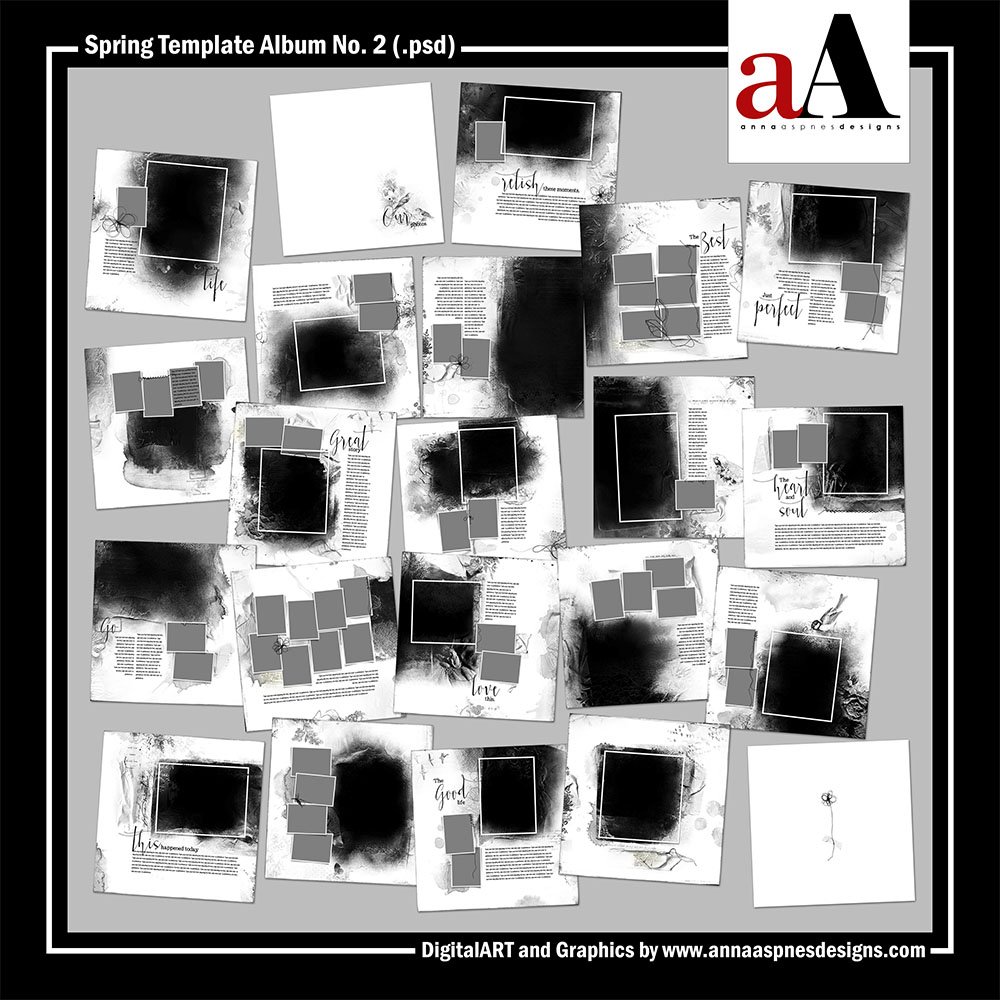 Happy Friday! Today I want to share a new artsy template album, plus a few important store updates.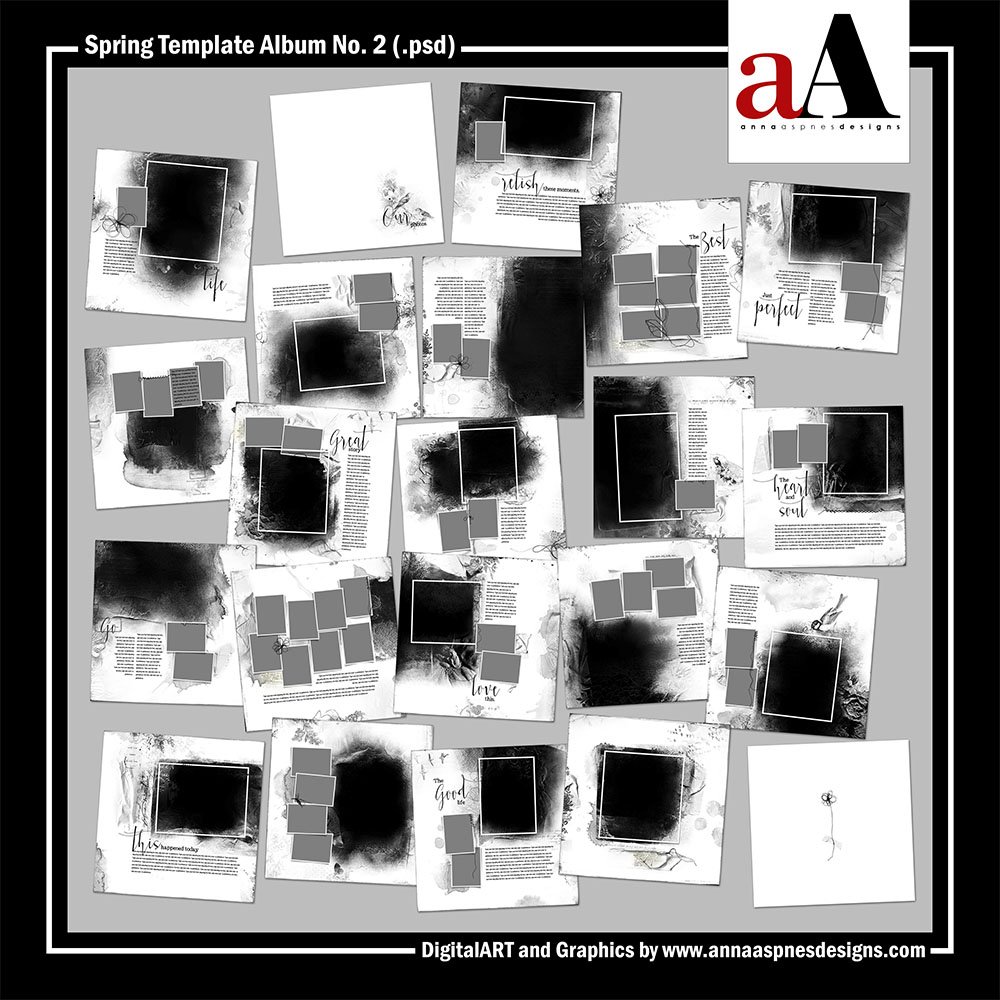 New Artsy Template Album, Important Updates
Spring Template Album
A collection of 20 – 12 X 12 Artsy and blended layered templates designed to create a 20-page album, plus a BONUS cover set for photo book printing.
The templates are intended for use with the clipping mask function or for recoloring in Photoshop, Elements and Paint Shop Pro.
All layer styles, masks, frames, brushwork, stitching, title and text boxes shown are included. Simply clip your images to the FotoBlendz masks and add your own personalization through DigitalART supplies and words.
Guidance on the use of clipping masks and recoloring in Photoshop and Elements can be found in the aA Instructions for Use eBooklet which is available as a free download from the store or view this video tutorial.
This template album is discounted by 50% through Friday, March 18, 2016 at 9am EST.
Check out the Spring Template Album No. 2 by Anna Aspnes Designs.
ArtPlay Palette Price Adjustment + SALE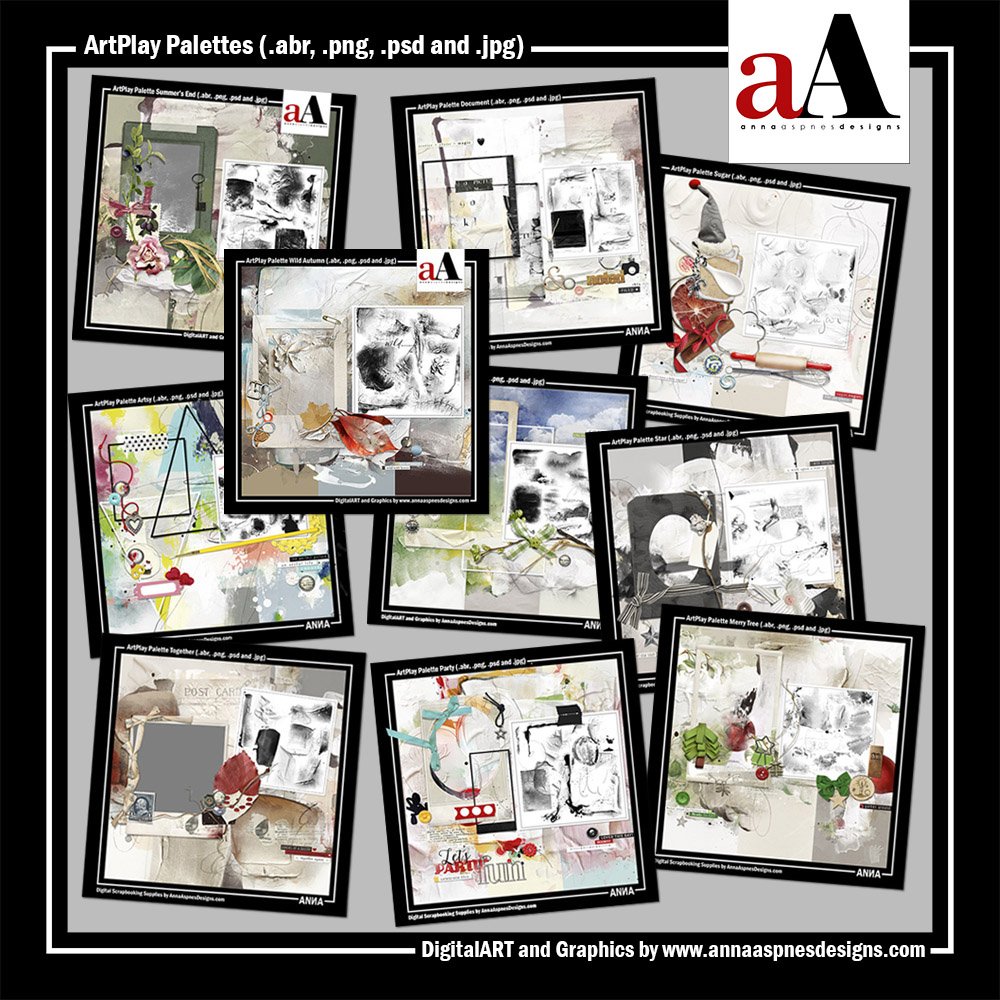 ArtPlay Palette pricing will change on Friday, March 18, 2016 at 9 am.
The price adjustment will standardize the price of ArtPlay Palettes in the Anna Aspnes Designs store and will better reflect the amount of time needed to create these artsy digital designs.
The complexity of the artsy paper designs has increased as my skills have evolved and the time/resources required to complete each design has doubled.
ArtPlay Palette pricing will change as follows:
All ArtPlay Palettes priced at $12.50, $9.99 and $8.99 will adjust to $11.99
All ArtPlay Palettes and MiniPalettes priced at $6.99 and $7.99 will adjust to

$8.99
The AnnaRelease purchase price will remain at $15.00 providing an almost 50% discount when  aA DigitalART products are purchased as a collection.
ArtPlay Palettes, excluding those released in the last 12 weeks, will be discounted from Friday, March 11, 2015 at 9am until Friday, March 18, 2016 at 9am, when the price adjustments outlined above will take effect.
Please note that the 12 week exclusion is designed to protect those who purchase new aA DigitalART products at the time of release. There is nothing more frustrating than purchasing a product for it to immediately go on sale. We are grateful to those who purchase Anna Aspnes Designs on a weekly basis.
Oscraps Celebrates 10 Years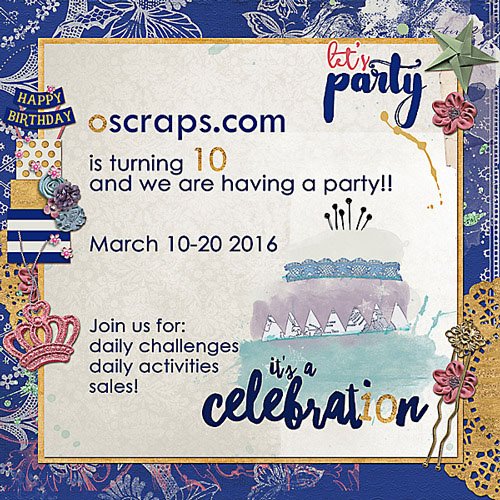 Oscraps is honoring 10 years with a BIG celebration now through Sunday, March 20, 2016.
Click on the image above to get all the details.
Anna Aspnes Designs is not taking part in the 40% store-wide sale due to a scheduling conflict.
Eric and I had booked a weekend in New Orleans, before I knew the dates for this event, and I have opted out of this sale to protect this time with my husband. Both sets of grandparents live on opposite sides of the planet so the opportunity for us to have time together has always been few and far between.
The stars aligned in terms of care for Ella, Luke and the furry members of our family and so we're jumping on this opportunity.
I hope you understand. 
You can still save 40% on ArtPlay Palettes above.
And next weekend happens to be my birthday, with plans for a little digital shin-dig to celebrate 🙂
I will be technology-free through Sunday evening. Please contact Oscraps Customer Service should you need assistance in my absence.
Thank you for your continued support of Anna Aspnes Designs.