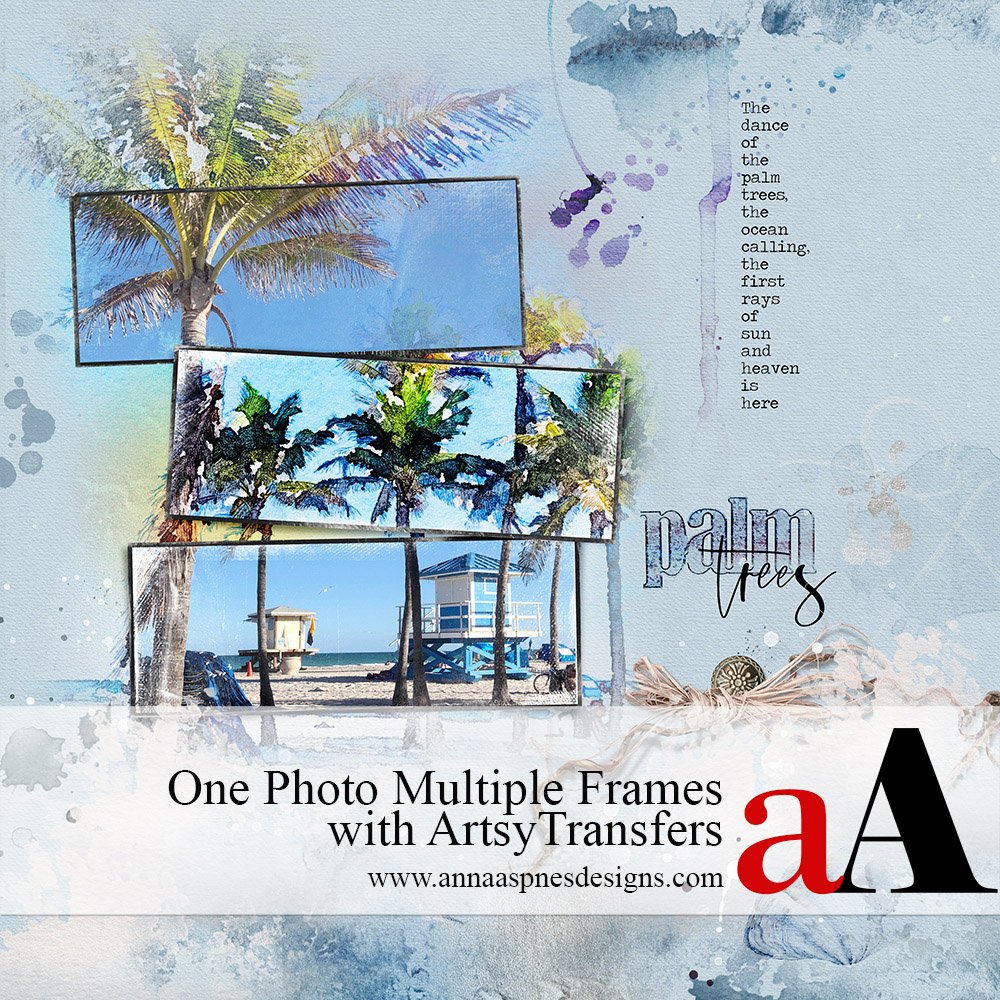 Today, Miki is sharing how to use One Photo Multiple Frames with ArtsyTransfers.
This tutorial is for Adobe Photoshop Users only.
One Photo Multiple Frames with ArtsyTransfers
Introduction
In this tutorial you will learn how to:
Extend a single photo across multiple frames.
Embellish with ArtsyTransfers and other DigitalART products from Anna Aspnes Designs.

1. Create Layout Foundation
Select a paper and add a photo applied to a FotoBlendz Clipping Mask.
Go to File> New to create a new 12 x 12 300 DPI layout.
Open a digital paper from an ArtPlay Palette into your workspace and move onto the layout page using the Move Tool from the Tools Panel.
Add a FotoBlendz clipping mask o the layout foundation and select a photo of choice.
Move the photo layer on top of the mask layer and clip the image to the mask with Layer> Create Clipping Mask.
RESIZE the photo or the FotoBlendz clipping mask layer as outlined in the Use Techniques in Photoshop and Elements video.
Open and position a FotoGlow over the photo layer to enhance the imagery.
Experiment with placement of the FotoGlow and apply a Blending Mode such as Hard Light from the Layers Panel.
Note. Miki used Halycyon FotoBlendz No. 1 (1) to blend her photo in her background paper.
2. Frame Your Photo
Select a frame and extend a single image across multiple frames.
File> Open and select a Frame element of your choice and place over the blended image.
Duplicate via

CTRL/CMD + J

 the clipped photo layer ONCE.
Apply artistic filters with Layer> Filter> Artistic to enhance the visual interest of the imagery.
Duplicate the manipulated photo TWO more times.
Move each of the 'filtered' photo 'copy' layer directly each of the 'fotomask' layers of the Frame element in the Layers Panel.
Hold down the CTRL/CMD key, select each photo layer in the Layers Panel and click on the 'clip' icon at the bottom of the Layers Panel to link together.
This prevents them from being moved out of place from one another.
Clip each photo 'copy' layer to each frame mask layer via Layer> Create Clipping Mask. 
RESIZE, ROTATE and/or REPOSITION as preferred.
Note. Miki used Distressed Frames No. 6 -1 to frame her photo and create a strong focal point.
Tip. See also Basic Clipping Mask Function.
3. Embellish with ArtsyTransfers
Enhance your photo and layout design with ArtsyTransfers.
Select and open the ArtsyTransfer files of your choice.
Move one or more layers onto your layout design using the Move Tool from the Tools Panel.
RECOLOR, ROTATE, REPOSITION, REMOVE or DUPLICATE the ArtsyTransfer layers.
Apply Blending Modes to adjust contrast and depth of color.
Note. ArtsyTransfer Halcyon (2) layers were flipped  vertically via Edit> Transform> Flip Vertical and placed at the bottom of the page.
4. Words and Dimensional Elements
Add additional elements to complete your layout and add visual interest.
Digital Art Supplies
See Dancing With the Palms by Miki Krueger in the aA Gallery with complete list of DigitalART supplies.
Summary
Extend your photo across multiple masks and embellish with Anna Aspnes Designs.
Clip multiple photo layers to a variety of mask layers.
Apply Artistic Filters to your photos to add visual interest.
Span multiple photo layers across as many frames.
Manipulate ArtsyTransfer files to support your photo and layout design.
WE INVITE YOU TO:
And if you liked this One Photo Multiple Frames with ArtsyTransfers, please consider sharing it using the social media buttons below.