Description
BIG Welcome to the

a

A

Project 2019
Another 365 days has flown by…
So MANY moments.
Countless MEMORIES
The STORIES of our LIVES.
How will you…
SAVOR the upcoming holiday season?
Reflect upon these FLEETING MOMENTS?
CELEBRATE the end of the year and another beautiful decade?
This is the 9th Year I am paying homage to ArtPLAY in December, in joyous celebration of this experience we call LIFE.
ONE daily reflection inspires ONE daily layout in ONE act of creativity.
The Project will help YOU:
Create at least ONE LAYOUT A DAY in December in a theme chosen by you.
Focus on what MATTERS most, enrich your seasonal experience and memorialize this year/decade.
Make connections in your stories BLENDING photos and memories with artistry.
Tell the stories, past and present, that are most MEANINGFUL to you.
Complete a photo project in year 2019 that will be TREASURED for generations to come.
Enjoy accountability, community and support in creating and printing a COMPLETE photo book project.
Keep your TIME commitment to minimum and take the stress out of album creation.
Guidance on creating, completing and printing your finished project will be provided.
a

A

Project 2019 Makes The Magic Happen
The project has been presented in many different formats over the years, and each year it continues to get better.
See aA Project 15 Year Evolution
Project 2019 has been designed so that YOU can:
Learn all my tried and tested techniques for successful layout creation and album completion.
Create a cohesive collection of pages using a collection of templates that you can print as a photo book.
Master the art of planning, sorting and organizing your DigitalART supplies and photos.
Select DigitalART supplies that co-ordinate with your images and best tell your stories
Love the layouts that you will create in your completed project
What YOU Can Expect
a

A

Project 2019 is delivered in 2 Parts:
1) NEW Template Album Collection plus Daily Email Inspiration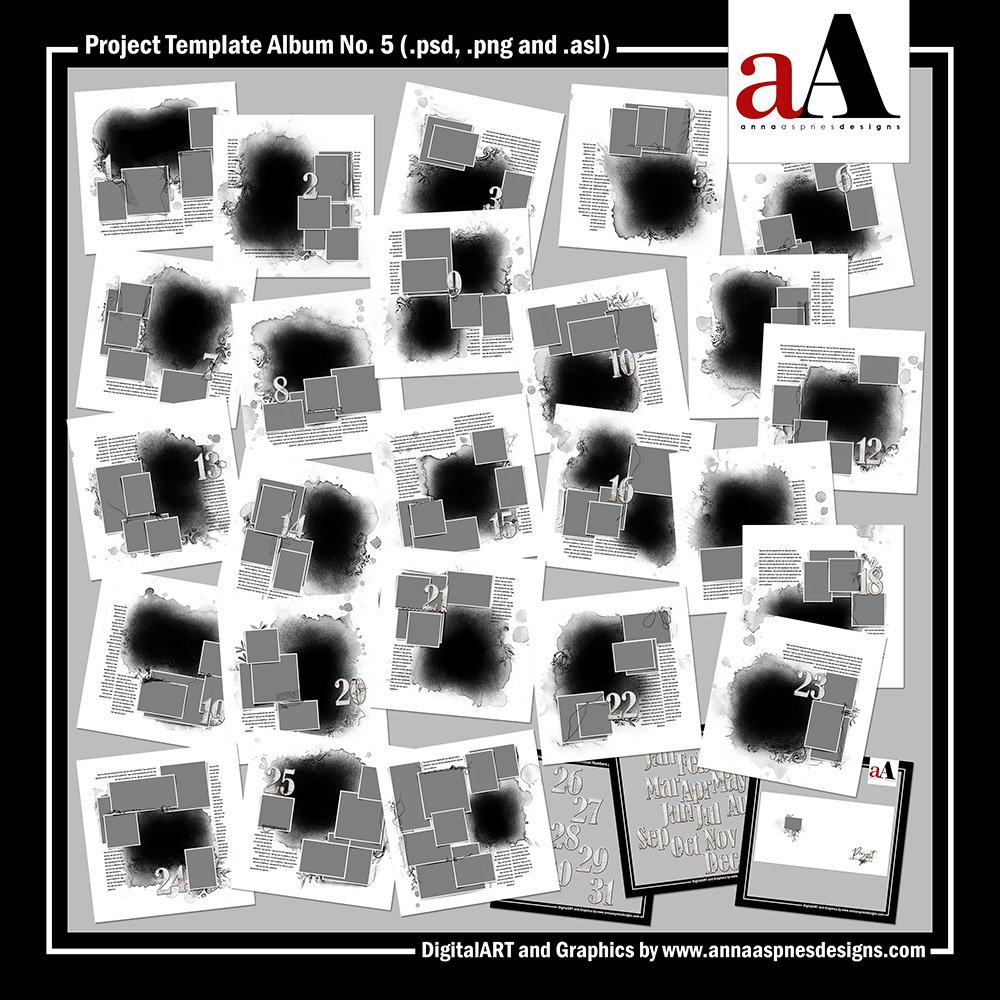 Collection of 26- 12 X 12 Layered Templates.
Creates a foundation for each layout design.
Recolor or clip photos/DigitalART supplies to each layer for easy layout creation.
Add/Remove layers as preferred.
Mix and match pages from Project Template Album No. 3 and Project Template Album No. 4 which shares the similar frames and elements.
Daily Email Inspiration.
Your purchase of the Project Template Album No. 5 gets you on the

a

A

Holiday Email List.
You will receive an email EVERY DAY from 1-25 December 2019 with ideas and inspiration for Themes, Motifs, Colors, Techniques, Quotes and DigitalART supplies.
Plus a FREE WORDART TITLE element with each daily email in .png format.
Email will be sent to the address you have registered at Oscraps (unless you email me otherwise).
2) Supporting LIVE Workshop Event
Video Education Inspiration and Techniques
Experience in teaching has shown me that students want to learn more in less time.
You will get:
4 weekly self-paced videos (30-60 minutes) recorded in 20-30 min segments.
Videos will guide you through key techniques and approaches used my pages.
All videos will be available for download in .MP4 format from Dropbox and your account at Anna Aspnes Designs.
Demonstrations will be conducted in Adobe Photoshop CC.
Additional information and support will be provided for Photoshop Elements users where needed.
Start to finish project guidance in .pdf format available for immediate download on registration.
Please Note.
Picaboo has always been my go-to photo book printing provider and I have been an ambassador for the company for the past few years. This has sadly come to end end with the departure of my contact at the company In spite of best efforts,  I have been able to secure a 55% DISCOUNT opportunity through 31 December 2019 at 11.59 EST ONLY and this cannot be extended. It is, however, an exciting opportunity to try the services and products of different companies for my own personal printing needs in the new upcoming decade, which I will be happy to share with you.
Video Lesson Delivery Schedule:
Pre-recorded videos will be available from your account in the evening MST on these days:
Monday 9th December 2019
Monday 16th December 2019
Monday 30th December 2019
Monday 6th January 2019
LIVE Meet-Ups:
Support the planning phase of the Project.
Foster connection
Answer questions
Provide further technique guidance
Note: Specific times TBD by student demand and/or preference but expected to take place mid- November and mid-December.
Support and Accountability with private access to the Project 2019 Facebook Group Community.
Connect with like-minded Storytellers and Scrapbookers just like YOU.
Receive community support, encouragement and accountability.
Share your pages, inspire others and get feedback on your artistry.
Converse with me, ask questions and receive constructive critique on request.
Enjoy always MORE than is promised.
Get everything you need to make the magic happen.
BONUS DigitalART Bundle
Your

a

A

Project registration comes with 10 of my go-to 'Project' DigitalART products.
Making some wishing come true this Holiday and including some of my favorite aA DigitalART products that I seem to revisit year after year in my own Project.
I hope they elevate this experience for you too.
TOTAL VALUE  of this DigitalART Bundle is $77.40.
Includes:
3 X ArtPlay Palette Collections
1 X ArtPlay MiniPalette
3 X BrushSets
1 X MultiMedia
1 X MagicSprinklez
1 X FotoGlows
*Available for immediate download on registration.
Got a Question?
Email me and I would be happy to answer it for you.